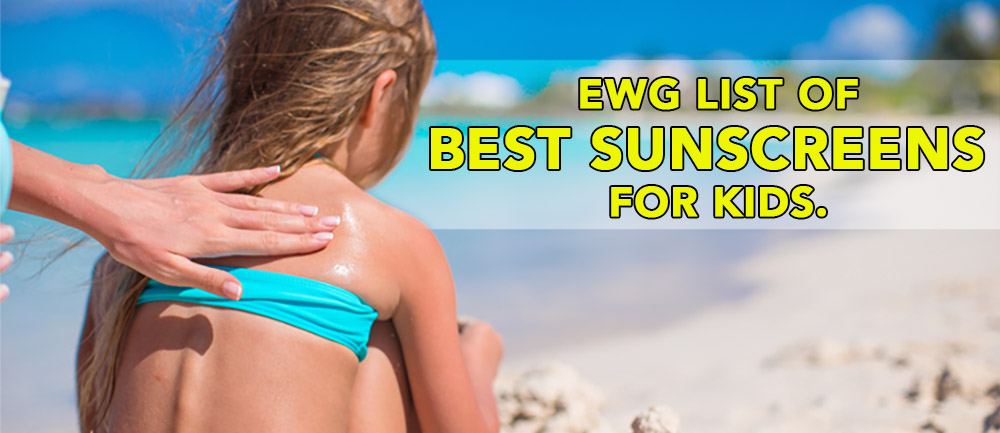 Best & Worst Sunscreens For Kids
BE SUN SMART!
Whether you're camping, hiking, swimming, or just hanging in the backyard, don't let a sunburn damper your child's fun! Applying a safe, effective sunscreen to children is one key to protecting them from sun damage. Easier said than done.
Choosing a healthy sunscreen for your family can be confusing and overwhelming. There are many sunscreens on the market for children that are simply unsafe to use. We look to the Environmental Working Group's (EWG) sunscreen recommendations because they do a lot of the time-consuming research for you! The EWG is a non-profit, non-partisan organization dedicated to protecting human health and the environment. Their list of approved sunscreens are assigned a safety rating to help you make the best choice for your family.
For a complete list and grading criteria CLICK HERE
Adorable Baby Sunscreen Lotion, SPF 30+
All Good Kid's Sunscreen, SPF 33
All Terrain KidSport Sunscreen Lotion, SPF 30
ATTITUDE Little Ones 100% Mineral Sunscreen, Fragrance Free, SPF 30
babyhampton beach*bum sunscreen, SPF 30
Badger Kids Sunscreen Cream, SPF 30
Bare Belly Organics Baby Sunscreen, SPF 30
Belly Buttons & Babies Sunscreen Lotion, SPF 30
Blue Lizard Australian Sunscreen, Baby, SPF 30+
BurnOut Kids Physical Sunscreen, SPF 35
California Baby Super Sensitive Sunscreen, SPF 30+
COOLA Suncare Baby Mineral Sunscreen Unscented Moisturizer, SPF 50
Goddess Garden Kids Sport Natural Sunscreen Lotion, SPF 30
Hampton Sun Sunscreen Lotion For Baby, SPF 45
Jersey Kids Mineral Sunscreen Lotion, SPF 30
Kiss My Face Organics Kids Mineral Sunscreen, SPF 30
Nurture My Body Baby Organic Sunscreen, SPF 32
Substance Baby Natural Sun Care Creme, SPF 30
Sunology Natural Sunscreen, Kids, SPF 50
Sunumbra Sunkids Natural Sunscreen, SPF 40
Thinksport for Kids Sunscreen, SPF 50+
TruKid Sunny Days Sport Sunscreen, SPF 30+
Keep in mind that sunscreen is only part of an effective sun protection plan. Below are some other crucial protection tips:
Seek shade. Plan a break from outdoor activities between the hours of 10 a.m. and 4 p.m., when UV rays are strongest. If this is not realistic, simply seeking shade during these hours will help limit your child's exposure to the sun's most harmful rays.
Cover up. Hats, shirts, pants and other skin shielding clothing will protect your child's skin from the sun's UV rays.
Use sunglasses. Shades protect your child's eyes from UV rays, which can lead to cataracts later in life. Look for sunglasses that wrap around and block as close to 100% of both UVA and UVB rays as possible.
WHAT SUNSCREEN WOULD YOU RECOMMEND OR ADVISE PEOPLE TO AVOID?
COMMENT BELOW